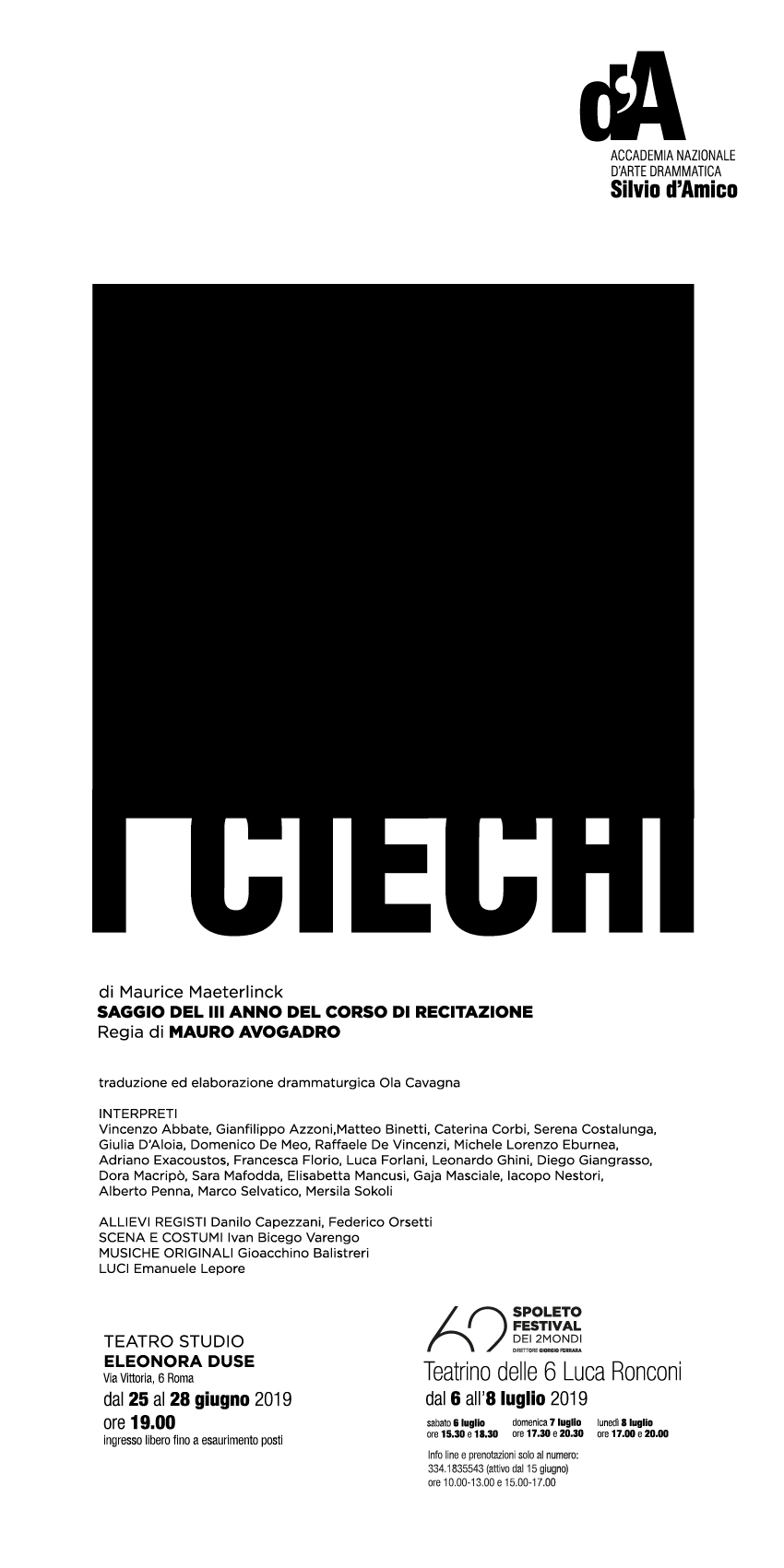 Address :
Teatro Studio E. Duse Via Vittoria 6 00100 Roma (IT)
I ciechi – di Maurice Maeterlinck
Teatro Studio E. Duse di Roma - dal 25 al 28 giugno (ACCADEMIA SILVIO D'AMICO)
Prodotto dall' Accademia Nazionale d'Arte Drammatica Silvio d'Amico
Per informazioni:
Recensione Sipario - Festival dei due mondi di Spoleto 2019
I CIECHI
Semplice e immobile è la situazione  drammatica de I CIECHI. Un gruppo di ciechi,in una notte profonda,teme di essere stato abbandonato da chi li conduceva: non ne odono più le parole, non ne avvertono più  la presenza. In questo vuoto si rianima in loro la ricerca di un valore, di una guida, di un punto di riferimento. La tragica  cecità dei personaggi  di Maeterlinck è  forse sorella della altrettanto tragica solitudine di molti giovani del nostro tempo che li induce, con subdoli e moderni strumenti, ad arrendersi?
dal 25 al 28 giugno 2019 presso il Teatro Studio E. Duse a Roma

I ciechi
di Maurice Maeterlinck
Traduzione ed elaborazione drammaturgica: Ola Cavagna
regia: Mauro Avogadro
scene e costumi: Ivan Bicego Varengo
costumi Gianluca Sbicca
luci: Emanuele Lepore
musiche: Gioacchino Balistreri
con: Vincenzo Abbate, Gianfilippo Azzoni, Matteo Binetti, Caterina Corbi, Serena Costalunga, Giulia D'Aloia, Domenico De Meo, Raffaele De Vincenzi, Michele Lorenzo Eburnea, Adriano Exacoustos, Francesca Florio, Luca Forlani, Leonardo Ghini, Diego Giangrasso, Dora Macripò, Sara Mafodda, Elisabetta Mancusi, Gaja Masciale, Iacopo Nestori, Alberto Penna, Marco Selvatico, Mersila Sokoli
Produzione: Accademia Nazionale d'Arte Drammatica Silvio d'Amico
Simple and immobile is the dramatic situation of I CIECHI (The blind): A group of blind people, in a deep night, fear that they have been abandoned by those who led them: They no longer hear his words, they no longer feel his presence. In this emptiness, they are looking for a value, a guide, a point of reference. Is the tragic blindness of Maeterlinck's characters the sister of the equally tragic loneliness of many young people of our time that leads them, with devious and modern instruments, to surrender?