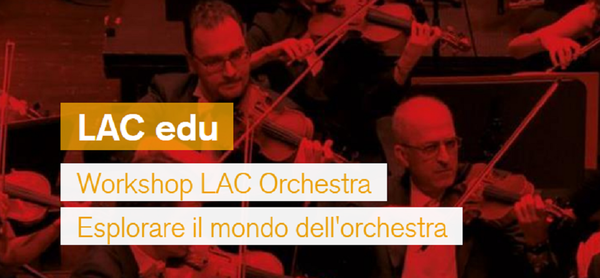 Address :
Piazza Bernardino Luini 6 6919 Lugano - Ti Switzerland
WORKSHOP LAC ORCHESTRA 2022 / 23
LAC LUGANO - Tutti i venerdì su prenotazione
PER INFO E PRENOTAZIONI (reservations):
Collegato al progetto LAC ORCHESTRA, il workshop permette ai ragazzi di vivere un'esaltante esperienza musicale, alla scoperta del mondo dell'orchestra e, in particolare, dell'Orchestra della Svizzera Italiana (OSI). Chi suona già uno strumento orchestrale (archi, legni, ottoni o percussioni d'orchestra) è caldamente invitato a portarlo con sé. Tramite coinvolgenti attività di gruppo, la struttura e il funzionamento di questo delicato ensemble strumentale si presenteranno in modo nuovo, avvincente ed istruttivo.
SU PRENOTAZIONE
Contatti LAC
Tel. 058 866 42 22
alice.nicotra@lugano.ch
giada.moratti@lugano.ch
____________________
A cura di e con: GIOACCHINO BALISTRERI
Quando: VENERDÌ TUTTO IL GIORNO
Età indicata: 11 - 13 ANNI
Costo per classe: 150 CHF

Durata: 2H CIRCA (100 MIN)
____________________
Linked to the LAC ORCHESTRA project, the workshop allows children to live an exciting musical experience that will allow them to explore the complex world of the orchestra, in particular the Orchestra of Italian Switzerland. Through group activities, the tools, the structure and the functioning of the "orchestra" mechanism will be presented to them in a compelling and instructive way, both from a structural and sound point of view.
RESERVATION REQUIRED
LAC contacts

Tel. 058 866 42 22
alice.nicotra@lugano.ch
giada.moratti@lugano.ch
_____________________
With: GIOACCHINO BALISTRERI
When: EVERY FRIDAY (all day)
age: 11-13
150 CHF

Time: 100 MIN.