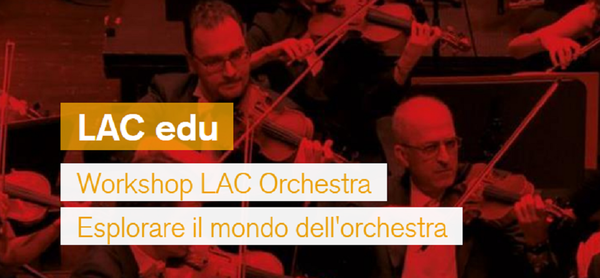 Address :
Piazza Bernardino Luini 6 6919 Lugano - Ti Switzerland
LAC ORCHESTRA – Workshop
Lac Lugano
Per info e prenotazioni:
LAC Official Website - Lac Orchestra Workshop
Collegato al progetto LAC ORCHESTRA, il workshop permette ai ragazzi di vivere un'esaltante esperienza musicale che gli consentirà di esplorare il complesso mondo dell'orchestra in particolare l'Orchestra della Svizzera italiana. Tramite attività di gruppo, gli strumenti, la struttura e il funzionamento del delicato meccanismo "orchestra" si presenterà loro in modo avvincente e istruttivo sia da un punto di vista strutturale, sia sonoro.
A cura di e con: GIOACCHINO BALISTRERI
Quando: MERCOLEDÌ 20 NOVEMBRE, dalle 15:00 alle 16:40
Età indicata: 11 - 14 ANNI
WORKSHOP GRATUITO
___________________________________________________
Linked to the LAC ORCHESTRA project, the workshop allows children to live an exciting musical experience that will allow them to explore the complex world of the orchestra, in particular the Orchestra of Italian Switzerland. Through group activities, the tools, the structure and the functioning of the "orchestra" mechanism will be presented to them in a compelling and instructive way, both from a structural and sound point of view.
With: GIOACCHINO BALISTRERI
When: WEDNESDAY 20 NOVEMBER, from 15:00 to 16:40
age: 11-14
FREE WORKSHOP