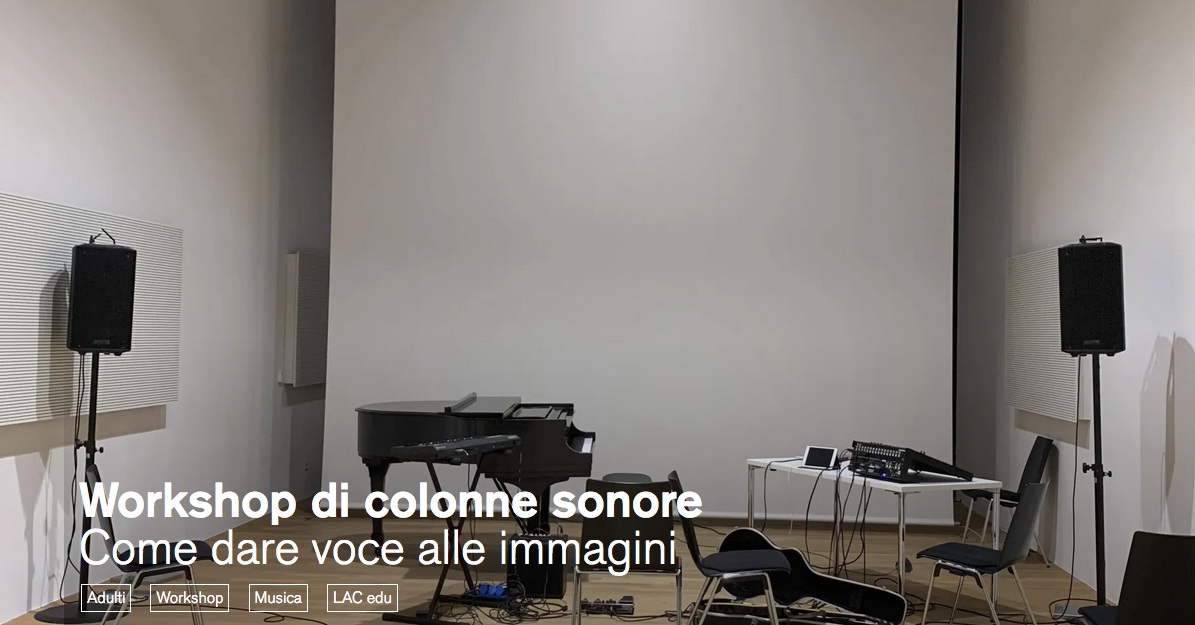 Address :
Piazza Bernardino Luini 6 6919 Lugano - Ti Switzerland
WORKSHOP DI COLONNE SONORE 2021 / 22
LAC LUGANO - Tutti i lunedì e venerdì su prenotazione
PER INFO E PRENOTAZIONI:
Una colonna sonora può cambiare le sorti di un film; ha la capacità di colorare un'immagine e di trasformala completamente. È una parte fondamentale di ogni pellicola. Durante il workshop, i ragazzi avranno la possibilità di muovere i primi passi all'interno di questo incredibile mondo. A seguito di una fase teorica interattiva, saranno messi a disposizione dei partecipanti diversi strumenti musicali e un equipaggiamento elettronico di ultima generazione (synthesizer, IPAD, etc) con lo scopo di creare, insieme al compositore, una vera e propria colonna sonora originale a commento della scena di un film.
Nel corso del workshop, si terranno performance live del compositore Gioacchino Balistreri che, sfruttando gli stessi strumenti utilizzati dai ragazzi, musicherà alcune scene importanti della storia del Cinema.
SU PRENOTAZIONE
Contatti LAC
Tel. 058 866 42 22
alice.nicotra@lugano.ch
giada.moratti@lugano.ch
_____________________
A cura di e con: GIOACCHINO BALISTRERI
Quando: VENERDÌ TUTTO IL GIORNO

                LUNEDÌ SOLO POMERIGGIO
Età indicata: 11 - 15 ANNI
Costo per classe: 150 CHF
Durata: 2H CIRCA (100 MIN)
_____________________
A soundtrack can change a film;

it

has the ability to color an image and transform it completely.

It is a fundamental part of every film.

During the workshop, the children will have the opportunity to take their first steps into this incredible world.

Following an introductory phase, various musical instruments and electronic equipment (synthesizer, IPAD, etc.) will be made available to participants with the aim of creating, together with the composer, an original soundtrack

for

a movie scene.




There will be a live performance by composer Gioacchino Balistreri who, using the same tools used by the boys, he will made new original soundtracks for some important scenes in the history of cinema.
RESERVATION REQUIRED

LAC Contacts
Tel. 058 866 42 22
alice.nicotra@lugano.ch
giada.moratti@lugano.ch
_____________________
With: GIOACCHINO BALISTRERI
When: EVERY FRIDAY (all day)

            EVERY MONDAY (only afternoon)
Age: 11-15
150 CHF
Time: 100 MIN.